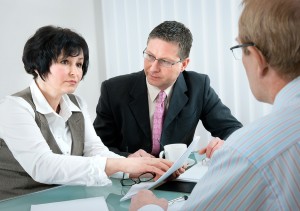 Whether you're embarking on the business landmark of hiring your first employee or you are managing a staff of hundreds, our employment lawyers at Gutglass, Erickson, Larson & Schneider S.C. have the knowledge and experience to help you wade through the sometimes choppy waters of employment law.
Our Experience in Employment Law
When you hire an attorney from Gutglass, Erickson, Larson & Schneider S.C., you have the benefit of our employment lawyers' vast body of experience on your side.  We've worked with clients in virtually all professions and professional specialties, and our employment lawyers successfully litigated matters at both the administrative level and beyond. In fact, we are one of the only firms in Milwaukee, Wisconsin, and the surrounding areas that can provide that level of experience.
We're well-versed in employment law, both from the perspective of the employer and the employee, and we can help ensure the employer-employee relationship is mutually beneficial for all parties.  Whether you need help with non-compete agreements, non-disclosure matters, matters of fiduciary duty, or other employment law areas, our employment lawyers have the knowledge and experience to help you with any of your legal needs.
Our Approach to Employment Law
At Gutglass, Erickson, Larson & Schneider S.C. of Milwaukee, Wisconsin, we assign a senior employment lawyer to each and every case, so you know you're always getting the full benefit of our experience.  Additionally, we take great pride in operating in an economical and efficient matter — no pouring money down the drain while you wait for us to do our jobs.  We use our vast experience to analyze your specific situation and quickly develop a strategy and a plan of action so you can get back to doing what you do best — doing business.
Hire a Business Law Attorney Today for Your Employment Law Needs.
We want to offer you our expertise in employment law so you can continue providing quality products and services to the people in our Milwaukee community. Interested in assistance from some of the best employment lawyers in the industry?
Give us a call today at (414) 273-1144, or use our web submission form to request more information on your employment law needs. Our employment lawyers are proudly serving the Milwaukee, WI, community.