Injuries happen and they disrupt your life in some of the worst possible times. If your life has been put on hold due to a serious accident or a personal injury, Gutglass, Erickson, Bonville and Larson S.C. can help.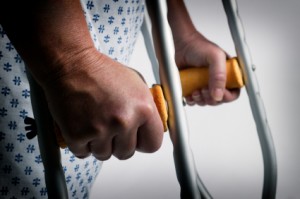 Car and truck accidents, wrongful deaths, and pharmacy mistakes. These are all examples of random personal injuries that can end up making your life extremely difficult.
Did you know…

That last year, there were more than 31 million injuries that occurred in the United States that were severe enough to require a doctor's care? (According to the National Center for Health Statistics)
Out of those, two million needed hospitalization. Over 150,000 of those injuries were fatal.
The National Highway Traffic Safety Administration reported that three million injuries and 40,000 deaths occur from over 5.5 million car accidents every year and an additional 60,000 personal injuries and 5,000 deaths occur each year from truck accidents.
There are over 300,000 personal injuries and 1,000 deaths occurring from construction accidents each year.
And of those who do end up in the hospital, 98,000 patients die each year from medical mistakes.
How can we help? We resolve several different types of personal injury cases and our attorneys have a vast amount of experience and knowledge with the following:

Motor Vehicle Accidents
Car Accidents
Motorcycle Accidents
Truck Accidents
Bus Accidents
Bicycle Accidents
Work Injury
Slips and Falls
Premises Liability
Burn Injuries
Pharmacy Mistakes
Dog Bite Cases
Product Liability
Defective Products
Asbestos Injuries
It may be a tough decision to file a personal injury lawsuit. Your life has been seriously affected by your injury and it has most likely already caused you a lot of stress and pain. At Gutglass, Erickson, Bonville and Larson S.C., we will help support you and guide you through the process. If you have questions about a potential personal injury case or a pre-existing personal injury case, we are available to serve you.  Give us a call at (414) 273-1144 or use our web submission form to speak with one of our personal injury lawyers or to request a free case evaluation on your personal injury situation.