As a small business owner, it's crucial to be aware of the maternity leave benefits you should be providing for your staff. There are different laws that decide these benefits and how they should be provided to your staff that differ depending on several factors and do not apply to all small businesses.
Maternity Leave Laws
Family Medical Leave Act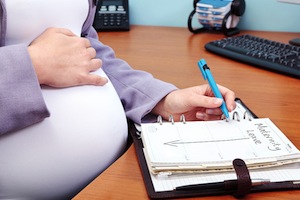 Under the Family and Medical Leave act, companies are obligated to offer unpaid, job guaranteed leave for families who have medical reasons under the group health insurance. A member of staff is required to take 12 workweeks of leave for the birth and care of child in the first year. The Family Medical Leave Act (FMLA) is only valid for companies that have more than 50 employees. This, therefore, cuts most small businesses out of the situation.
State Laws
Depending on where your business is located the state laws may offer different rights for pregnant women and regarding maternity leave. In California, the state provides disability payments for two thirds of a pregnant woman's wages for approximately six to eight weeks. To find out what the laws are in your local area contact the state pregnancy, childbirth, and adoption leave statues.
General Leave Policies
If you are a small business and you are not covered by the FMLA Maternity Leave or state laws it's important to ensure create a leave policy for your employees. Providing maternity leave allows your staff to enjoy the rights of having a child and can give a positive working environment and happier staff overall. On average 90% of workers return to work after taking maternity leave.
If you choose not to put a policy in place, it's important to consider how long the employee has been working for you. The FMLA requires that a staff member works over 24 hours per week to be eligible, but state policies require no minimum. Policies can apply to both women and men of both adopted and blood children.
Preparing Staff for Cases of Maternity Leave
When it comes to preparing your business for staff taking leave, there are a few things to put into place to ensure your business continues to run smoothly:
Be sure to train up your staff to take on the extra work when you lose a member of staff on temporary, or more permanent leave. These steps will ensure a smooth and seamless transaction.
You could also consider cross training your staff to handle multiple jobs and tasks. That way once any of your staff members takes maternity leave business is not backed up with jobs that your other staff cannot handle.
Another option is to hire contractors and freelancers from outside. There are several companies that specialize in freelancers who can learn the job quickly and professionally, but may be a more expensive temporary solution.
However you choose to take care of maternity leave policies within your small business it's important to be aware of the options and what laws apply to you as a business owner.
At Gutglass, Erickson, Bonville & Larson, we understand the challenges of dealing with legal issues for your business and we are here to help. Give us a call and we will be happy to answer all your questions. Call us today at (414) 273-1144.