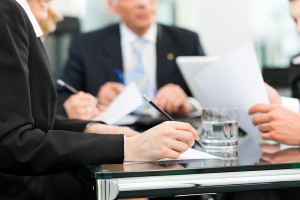 If you own a franchise, it is crucial that you take all the appropriate measures needed to ensure your franchise is protected. Unsure how you can receive the protection your franchise requires? Gutglass, Erickson, Bonville and Larson Law Firm understands how complex franchise law is and knows the appropriate precautions that need to be taken.
Important Franchise Law Considerations:
The Contract
The contract, also known as a "Franchise Disclosure Document," is one of the most important considerations a franchise owner needs to make. Simply put: it is the glue that holds together the franchise. From the legal standpoint, having an airtight and detailed contract is a top priority for every franchise lawyer. The best franchise agreements are thorough, covering a number of crucial items. To give you an idea of how complex franchise law can be, consider the fact that the standard Franchise Disclosure Document includes the following items:
· The Franchisor, its Predecessors, and its Affiliates
· Business Experience
· Litigation
· Bankruptcy
· Initial Franchise Fee
· Other Fees
· Initial Investment
· Restrictions On Sources Of Products And Services
· Franchisee's Obligations
· Financing
· Franchisor's Obligations
· Territory
· Trademarks
· Patents, Copyrights and Proprietary Information
· Obligation To Participate In The Actual Operation Of The Franchise Business
· Restrictions On What The Franchisee May Sell
· Renewal, Termination, Transfer And Dispute Resolution
· Public Figures
· Earnings Claims
· List Of Outlets
· Financial Statements
· Contracts
· Receipt
To reiterate: Franchise law is a complicated area of the legal system that demands finesse and attention to detail.
Contract Negotiations
Despite popular belief, not all franchise contracts are non-negotiable. The matter of the fact is, assuming all the appropriate measures were taken, it is up to the franchise owner to decide whether or not the contract can be negotiated. In the event that your franchise is agreeable to a negotiation, you will want to be sure a well-versed franchise law specialist can mull over the details. Why? Your franchise is an asset that needs protecting, so it is important that the smallest of contract negotiations are looked over before any new agreements are made.
Consult a Franchise Law Expert Now
If you are a proud franchise owner who is seeking the assistance of a legal professional, contact our seasoned lawyers at Gutglass, Erickson, Bonville and Larson Law Firm. We are prepared to see after your every franchise law need, so be sure to contact us today.
For more information about our franchise law services, call (414) 273-1144.