It's with great pride that we announce Milwaukee lawyers James Gutglass, Paul Erickson, Kathleen Bonville, and Mark Larson from Gutglass, Erickson, Bonville & Larson, S.C., were again selected by their peers for inclusion in The Best Lawyers in America © 2015 (Copyright 2014 by Woodward/White, Inc., of Aiken, SC). We'd also like to note that it's been 9 years for James Gutglass' inclusion on the list. Congratulations to all.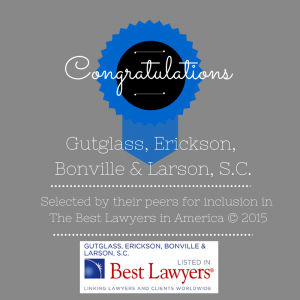 Milwaukee Lawyers Voted Best Lawyers in America
Best Lawyers® has become universally regarded as the definitive guide to legal excellence since it was first published in 1983. inclusion in Best Lawyers is considered a singular honor because it is based on an exhaustive peer-review survey in which almost 50,000 leading attorneys cast nearly five million votes on the legal abilities of other lawyers in their practice areas – lawyers are not required or allowed to pay a fee to be listed. Best Lawyers has been coined by Corporate Counsel magazine "the most respected referral list of attorneys in practice."
To be included year over year for inclusion in the next edition, attorneys must maintain these votes. So with the continued addition this year, our team of attorneys in Milwaukee shows a tradition of excellence – and that's no surprise with over 30 years of experience.
We strive to truly represent the Best Lawyers title by earning our peers and clients' trust through our ethics, skills, compassion, and integrity.
Award Winning Milwaukee Lawyers
Kathleen Bonville, since 2012
Lawyer of the Year 2014 – Medical Malpractice Law – Defendants (Milwaukee)
Legal Malpractice Law – Defendants
Medical Malpractice Law – Defendants
Personal Injury Litigation – Defendants
Paul Erickson, since 2012
Lawyer of the Year 2012 – Medical Malpractice Law (Milwaukee)
Legal Malpractice Law – Defendants
Medical Malpractice Law – Defendants
Personal Injury Litigation – Defendants
James Gutglass, since 2007
Medical Malpractice Law – Defendants
Personal Injury Litigation – Defendants
Mark Larson, since 2012
Legal Malpractice Law – Defendants
Medical Malpractice Law – Defendants
Personal Injury Litigation – Defendants
The Best Lawyers in America© 2015. Copyright 2014 by Woodward/White, Inc., Aiken, SC